Should You Dust With Dry Or Wet Cloth?
If you have ever wondered whether you should dust your home with a dry or wet cloth, you are not alone. There are pros and cons to both methods, so it is important to weigh your options before deciding which method is best for you. Here is a closer look at the pros and cons of each method to help you make an informed decision.

Dusting with a dry cloth has several benefits. First, it is much faster than dusting with a wet cloth. Second, it requires no set-up time – simply grab a dust cloth and start dusting!

Third, dry dusting is less likely to damage delicate surfaces than wet dusting. However, there are also some drawbacks to dry dusting. One downside is that dry dusting can create clouds of fine particles that can be breathed in, which can be harmful to your lungs.

Another potential drawback is that dry dusting may not be as effective at removing heavy buildup from surfaces as wet dusting. Wetting your dustcloth before beginning to clean has several advantages over using a dry cloth. First, it allows you to trap and remove more dirt and debris from surfaces since the water will act as a "glue" of sorts to hold onto the dirt particles.

Second, wetting your cloth beforehand reduces the amount of airborne Dust Particles significantly – this is especially beneficial if someone in your household suffers from allergies or asthma . Third, wiping surfaces with a dampened cloth often leaves behind a streak-free shine . On the other hand , one downside to wetting your cleaning cloths ahead of time is that it takes slightly longer to complete the task compared to using a dry cloth (although this difference may only amount to minutes).
Is it better to dust with a wet or dry cloth?
When it comes to dusting, there is no one-size-fits-all answer. The best way to dust depends on the type of surface you're cleaning and the type of dirt or dust you're dealing with. Here are a few things to keep in mind when deciding whether to use a dry or wet cloth for your next dusting session.

Surface type: If you're dusting a delicate surface like wood furniture or electronics, it's best to use a microfiber cloth dampened with water. This will help prevent scratches and static build-up. Dirt/dust type: If you're dealing with heavy duty dirt or grime, a damp cloth will be more effective at lifting and removing it than a dry one.

However, if you're just dealing with light dust, a dry cloth should do the trick. So, should you dust with a dry or wet cloth? It all depends on the situation!

Just use your best judgement and go with what works best for the particular surface and dirt type you're dealing with.
What is a Damp Cloth
A damp cloth is a piece of cloth that has been soaked in water and wrung out so that it is not dripping wet. It is usually used to clean surfaces or to wipe up spills.
How to Make a Damp Cloth
A damp cloth can be a very useful tool. There are many ways to use a damp cloth and many different ways to make one. Here is a guide on how to make a damp cloth.

The most important part of making a damp cloth is getting the right type of fabric. The fabric should be absorbent, but not too much so that it will take forever to dry out. A good option for this is an old t-shirt or cotton towel.

Once you have your fabric, cut it into squares or rectangles that are about the size of your hand. Once you have your pieces of fabric, wet them with water until they are saturated but not dripping wet. You can do this by running them under the tap or using a spray bottle.

Once they are wet, wring them out so that they are only damp and not dripping wet. Now that your cloths are damp, you can use them for whatever purpose you need them for! If you need to wipe down a surface, simply use the cloth like you would any other cleaning rag.

Damp cloths are also great for dusting because they pick up dust easily and don't just move it around like a dry rag would. If you need to clean something more delicate, like glassware or electronics, use a slightly less damp cloth so that there is less risk of water damage.
Damp Dust
Damp dust is a type of dust that can be found in many homes. It is made up of small particles of dirt, dust mites, and other debris that can become airborne when disturbed. Damp dust often accumulates on surfaces such as floors, furniture, and window sills.

While it may not seem like a big deal, damp dust can actually be dangerous to your health. Dust mites are tiny creatures that thrive in humid environments. They feed on dead skin cells and their feces contain a protein that can cause an allergic reaction in some people.

When inhaled, this protein can trigger asthma attacks and other respiratory problems. In addition to causing allergies, damp dust can also lead to the development of mold and mildew. These fungi love dark, moist places and can cause serious respiratory infections if inhaled.

If you have damp dust in your home, it's important to take steps to remove it. The first step is to identify the sources of the dampness. If you have leaky pipes or a humidifier, these should be fixed ASAP.

Once you've fixed the source of the moisture problem, you can start cleaning up the damp dust itself. Vacuuming with a HEPA filter is the best way to remove damp dust from surfaces like floors and furniture. You can also use a wet rag or mop to wipe down surfaces before vacuum-cleaning them.

Be sure to wash any rags or mops you use in hot water afterwards so mold doesn't have a chance to grow on them!
Why Damp Dusting is Preferred to Dry Dusting
Damp dusting is the process of using a damp cloth to wipe down surfaces and remove dust. Dry dusting, on the other hand, is the process of using a dry cloth or brush to sweep away dust. While both methods can be effective at removing dust, there are several reasons why damp dusting is generally preferred to dry dusting.

One reason why damp dusting is better than dry dusting is that it prevents the spread of Dust Mites. Dust mites are tiny creatures that thrive in dusty environments. They are known to cause allergies and asthma in some people.

When you damp-dust, the moisture from the cloth traps the dust mites and kills them, preventing them from spreading throughout your home. Another reason to prefer damp-dusting over dry-dusting is that it doesn't create as much airborne dust. When you dry-dust, you're essentially just stirring up all the settled dust into the air where it can be inhaled by you or your family members.

This can lead to respiratory problems, especially for those with allergies or asthma. Damp-dusting simply removes theDust without kicking it up into the air where it can do harm. Finally, damp-dusting leaves behind a bit of moisture which helps to keep surfaces clean longer than if they were just dusted with a dry cloth.

This is because when surfaces are left wet (even just slightly), they attract less dirt and Dust than when they're completely dry. So not only does damp-dusting help to immediately remove existing dirt and Dust , but it also helps to prevent new dirt and Dust from settling as quickly!
Damp Cloth Cleaning
Damp cloth cleaning is one of the most effective ways to clean your home. It's also one of the easiest and most affordable methods. All you need is a damp cloth and some elbow grease.

There are a few things to keep in mind when using this method: 1. Make sure the cloth is only damp, not wet. Too much moisture can damage surfaces or leave streaks behind.

2. Use a clean cloth for each surface. This will prevent dirt and grime from being transferred around your home. 3. Wipe in one direction only.

back-and-forth motions can actually spread dirt and debris instead of removing it.
Damp Dusting in Nursing
Damp dusting is a cleaning method that uses a damp cloth or sponge to dust surfaces. This method is often used in nursing homes and hospitals as it is an effective way to remove dirt, dust, and other debris from surfaces without spreading them into the air. Damp dusting can be done by hand or with a damp cloth attached to a pole or other tool.

When using a pole, the cloth should be wrapped around the head of the pole so that it is secure. The head of the pole should then be dipped into a bucket of water before being run along the surface to be cleaned. For smaller areas, such as countertops, damp dusting can be done by hand.

Simply wet a cloth or sponge in water and wring it out so that it is damp, not dripping wet. Rub the cloth or sponge over the surface to be cleaned in a circular motion until all dirt and dust has been removed. One advantage of damp dusting is that it does not createDust clouds like dry Dusting methods do .

Another advantageisThat It's more effective at removing certain types of dirt ,such as greasy fingerprints .Disadvantagesof dampt dustedincludeThat It takes longer than drydustinging ,andYou May Needto go overthe same area multiple times to remove all the dirt .
Damp Dusting in Hospital
Damp dusting is a process of cleaning surfaces with a damp cloth. This method is often used in hospitals to prevent the spread of infection. The damp cloth picks up dust and dirt, which can then be removed from the surface.

Damp dusting can also help to remove stains and marks from surfaces.
Damp Dusting Procedure And Rationale
Damp dusting is a cleaning method that uses a slightly dampened cloth to remove dust from surfaces. The rationale for using this method is that it is less likely to disperse dust into the air than dry dusting, and it can be more effective at removing stubborn or caked-on dirt. To dampen the cloth, you can use water, a mild cleaning solution, or even just your saliva.

The key is to not make the cloth too wet, as this could damage surfaces or leave behind streaks. Once the cloth is dampened, simply wipe it over dusty surfaces. You may need to put some elbow grease into it for tougher dirt, but be careful not to scrub too hard and damage the surface.

When you're finished damp dusting, allow surfaces to air dry completely before putting anything back in place. This will help prevent any residual moisture from causing damage or creating an ideal environment for mold growth.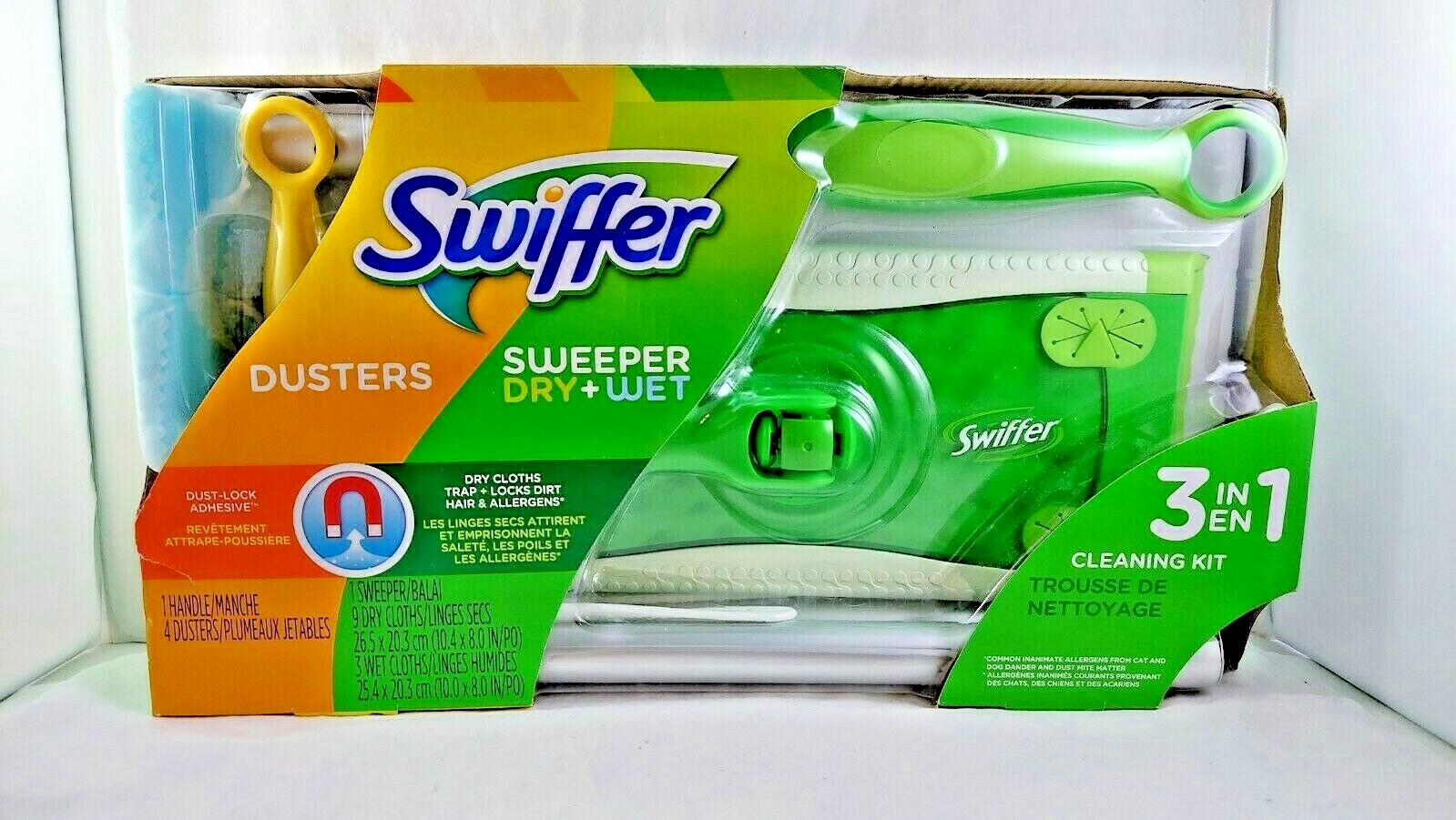 Credit: www.ebay.com
Is It Better to Clean Dust With a Wet Or Dry Cloth?
When it comes to cleaning dust, there is no one definitive answer. It depends on a variety of factors, including the type of surface you're cleaning and the amount of dust present. In general, however, it's usually best to use a dry cloth for surfaces that are not too dirty and a wet cloth for surfaces that are very dirty or have thick layers of dust.

Here's a closer look at some pros and cons of using wet and dry cloths for dusting: Dry Cloth Pros: -A dry cloth can be used on most surfaces without fear of damaging them.

-Dry cloths are less likely to spread around Dust than wet ones. -It's easy to tell when a dry cloth needs to be replaced because it will become visibly dirty over time. Cons:

-A dry cloth will not remove all the Dust from a surface – especially if the surface is very dusty or has thick layers of dust. -A drycloth can actually cause Dust to become airborne, making it easier to inhale (which can be harmful for people with allergies or respiratory conditions). Wet Cloth Pros:

-A wet cloth can remove more Dust from a surface than a dry one, making it ideal for surfaces that are very dusty or have thick layers of dust. -Using a wet cloth is less likely to cause Dust to become airborne than using a drycloth. Cons:

-A wetcloth can damage some surfaces if not used properly – always test on an inconspicuous area first! -Wetcloths can be more difficult to handle than dry ones because they can drip and make things slippery.
Is Dry Dusting Effective?
Dry dusting is a method of cleaning surfaces using a dry cloth or brush. The dry dusting method is often used on surfaces that are not wet or damp, such as window sills, ledges, and baseboards. Dry dusting can also be used to remove light debris from floors before mopping.

Despite its name, dry dusting does not actually remove all the dirt and debris from surfaces. In fact, it can often push dirt and debris around, rather than removing it. This can cause more harm than good, as it can lead to scratching or damaging the surface you are trying to clean.

If you do choose to dry dust, make sure to use a clean microfiber cloth or soft-bristled brush. Avoid using anything abrasive that could scratch the surface you are cleaning. Also be sure to move slowly and gently so you don't end up scattering the dirt and debris around instead of removing it.
What is Best Cloth to Dust With?
When it comes to dusting your home, you want to make sure you are using the best cloth possible. There are a few different types of cloths that can be used for dusting, but not all of them are created equal. Here is a look at some of the best cloths to use for dusting your home:

Microfiber Cloths: Microfiber cloths are one of the best options for dusting. They are made with very small fibers that attract and hold onto dust particles. This makes them great at picking up dust without leaving any behind.

Plus, they can be reused over and over again since they don't hold onto the dust like other materials might. Dampened Clothes: If you want to avoid using chemicals while still getting rid of all the dust, then dampening your cloth is a great option. You can dampen the cloth with water or vinegar (depending on what you have on hand) and then use it to wipe down surfaces.

The moisture will help loosen up any stuck-on dirt and grime so that it can be easily wiped away. Just make sure you wring out thecloth well before using it so that surfaces don't end up too wet. Feather Dusters: Feather dusters are another popular option for cleaning off surfaces from Dustbunniescentral blog post .

They work by trappingdust particles in their feathers and then releasing them when you shake them out or brush them against something else. Just be careful not to use them on delicate surfaces as they could scratch them.
How Do You Properly Dust?
Assuming you would like tips on how to dust: Dusting is the process of removing dirt, dust, and other small particles from surfaces. It is important to dust regularly to keep surfaces clean and free of allergens.

Although it may seem like a simple task, there are a few things to keep in mind when dusting to ensure that the job is done properly. Here are some tips for proper dusting: -Start with a clean cloth or duster.

A cloth that is already covered in dust will just spread the dust around and make it harder to remove. Use a microfiber cloth or an electrostatic duster for best results. -Dust from top to bottom.

Start by Dusting high surfaces such as ceiling fans, light fixtures, and shelves. Then move on to lower surfaces such as furniture and baseboards. This way, anydust that falls will land on surfaces that have already been dusted.

-Pay attention to detail. Don't forget about places where dust tends to accumulate, such as corners, crevices, and underneath furniture. These areas can be easily missed but should be dusted regularly nonetheless.

-Use appropriate cleaners. When cleaning wood surfaces such as furniture or floors, be sure to use cleaners that are designed for wood specifically.
Conclusion
If you're wondering whether it's better to dust with a dry or wet cloth, the answer is that it depends on what you're dusting. If you're dusting something delicate, like a computer screen or television, you should use a dry, soft cloth. If you're dusting something that's not as delicate, like furniture, you can use either a dry or damp cloth.
{ "@context": "https://schema.org", "@type": "FAQPage", "mainEntity":[{"@type": "Question", "name": "Is It Better to Clean Dust With a Wet Or Dry Cloth? ", "acceptedAnswer": { "@type": "Answer", "text": " When it comes to cleaning dust, there is no one definitive answer. It depends on a variety of factors, including the type of surface you're cleaning and the amount of dust present. In general, however, it's usually best to use a dry cloth for surfaces that are not too dirty and a wet cloth for surfaces that are very dirty or have thick layers of dust. Here's a closer look at some pros and cons of using wet and dry cloths for dusting: Dry Cloth Pros: -A dry cloth can be used on most surfaces without fear of damaging them. -Dry cloths are less likely to spread around Dust than wet ones. -It's easy to tell when a dry cloth needs to be replaced because it will become visibly dirty over time. Cons: -A dry cloth will not remove all the Dust from a surface – especially if the surface is very dusty or has thick layers of dust. -A drycloth can actually cause Dust to become airborne, making it easier to inhale (which can be harmful for people with allergies or respiratory conditions). Wet Cloth Pros: -A wet cloth can remove more Dust from a surface than a dry one, making it ideal for surfaces that are very dusty or have thick layers of dust. -Using a wet cloth is less likely to cause Dust to become airborne than using a drycloth. Cons: -A wetcloth can damage some surfaces if not used properly – always test on an inconspicuous area first! -Wetcloths can be more difficult to handle than dry ones because they can drip and make things slippery." } } ,{"@type": "Question", "name": "Is Dry Dusting Effective? ", "acceptedAnswer": { "@type": "Answer", "text": " Dry dusting is a method of cleaning surfaces using a dry cloth or brush. The dry dusting method is often used on surfaces that are not wet or damp, such as window sills, ledges, and baseboards. Dry dusting can also be used to remove light debris from floors before mopping. Despite its name, dry dusting does not actually remove all the dirt and debris from surfaces. In fact, it can often push dirt and debris around, rather than removing it. This can cause more harm than good, as it can lead to scratching or damaging the surface you are trying to clean. If you do choose to dry dust, make sure to use a clean microfiber cloth or soft-bristled brush. Avoid using anything abrasive that could scratch the surface you are cleaning. Also be sure to move slowly and gently so you don't end up scattering the dirt and debris around instead of removing it." } } ,{"@type": "Question", "name": "What is Best Cloth to Dust With? ", "acceptedAnswer": { "@type": "Answer", "text": " When it comes to dusting your home, you want to make sure you are using the best cloth possible. There are a few different types of cloths that can be used for dusting, but not all of them are created equal. Here is a look at some of the best cloths to use for dusting your home: Microfiber Cloths: Microfiber cloths are one of the best options for dusting. They are made with very small fibers that attract and hold onto dust particles. This makes them great at picking up dust without leaving any behind. Plus, they can be reused over and over again since they don't hold onto the dust like other materials might. Dampened Clothes: If you want to avoid using chemicals while still getting rid of all the dust, then dampening your cloth is a great option. You can dampen the cloth with water or vinegar (depending on what you have on hand) and then use it to wipe down surfaces. The moisture will help loosen up any stuck-on dirt and grime so that it can be easily wiped away. Just make sure you wring out thecloth well before using it so that surfaces don't end up too wet. Feather Dusters: Feather dusters are another popular option for cleaning off surfaces from Dustbunniescentral blog post . They work by trappingdust particles in their feathers and then releasing them when you shake them out or brush them against something else. Just be careful not to use them on delicate surfaces as they could scratch them." } } ,{"@type": "Question", "name": "How Do You Properly Dust? ", "acceptedAnswer": { "@type": "Answer", "text": " Assuming you would like tips on how to dust: Dusting is the process of removing dirt, dust, and other small particles from surfaces. It is important to dust regularly to keep surfaces clean and free of allergens. Although it may seem like a simple task, there are a few things to keep in mind when dusting to ensure that the job is done properly. Here are some tips for proper dusting: -Start with a clean cloth or duster. A cloth that is already covered in dust will just spread the dust around and make it harder to remove. Use a microfiber cloth or an electrostatic duster for best results. -Dust from top to bottom. Start by Dusting high surfaces such as ceiling fans, light fixtures, and shelves. Then move on to lower surfaces such as furniture and baseboards. This way, anydust that falls will land on surfaces that have already been dusted. -Pay attention to detail. Don't forget about places where dust tends to accumulate, such as corners, crevices, and underneath furniture. These areas can be easily missed but should be dusted regularly nonetheless. -Use appropriate cleaners. When cleaning wood surfaces such as furniture or floors, be sure to use cleaners that are designed for wood specifically. Using the wrong cleaner can damage the finish or leave streaks behind" } } ] }